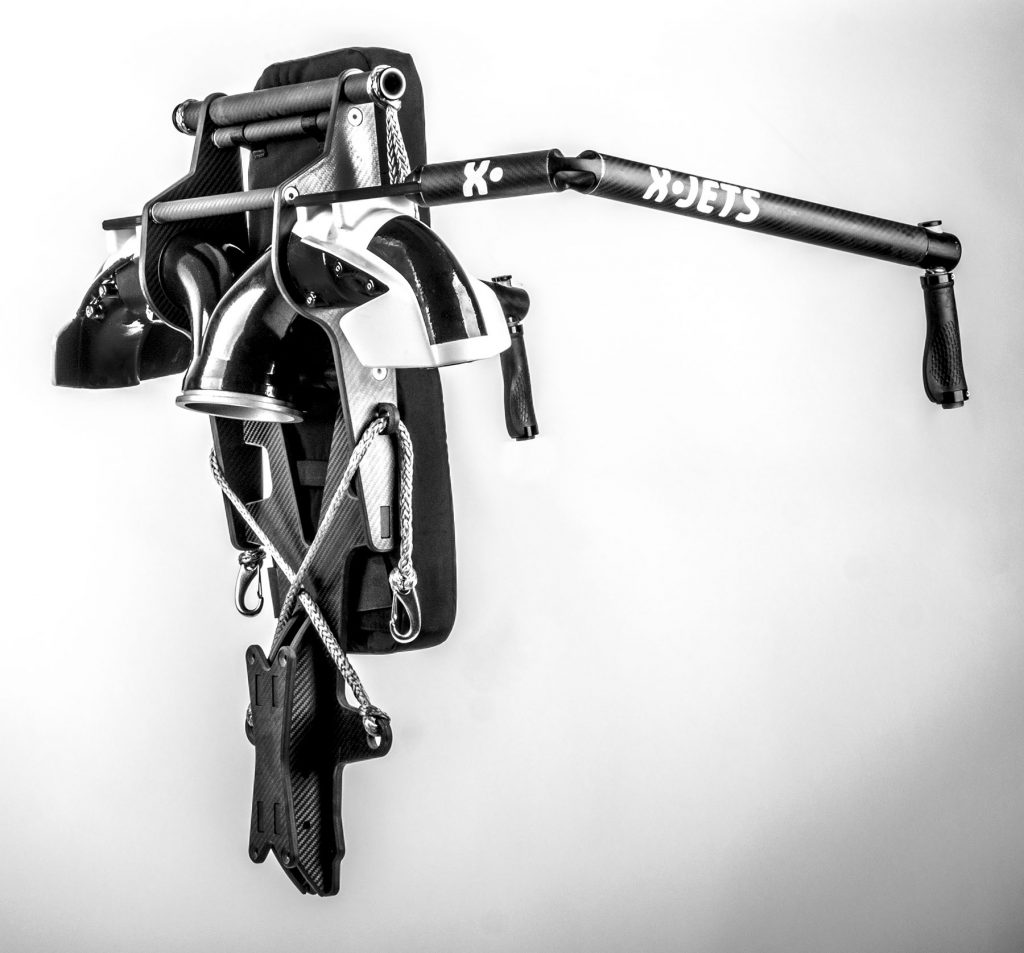 Carbon fiber is the ultimate material in for sport. This stiff, high modulus material is valued for ultra fast response time, amazing strength and light weight.  We decided to make a statement about our commitment to high end hydroflight equipment by building a hydrojetpack completely out of this amazing material.  This was developed as a "concept car", a high end experiment that spared no expense, a project whose goal was to be the ultimate expression of what a jetpack could be.  Wow, what a result!
We a built a range of prototypes in our factory in Shanghai, setting up a new division that is specialized in carbon fiber design and fabrication. We contacted specialists and developed in the direct nimble way that we have become adept at. Initial testing was done in Thailand, centered in our new satellite workshop under the management of Frazier Grandison.   We built static testing fixtures for rapid prototyping of frame and pilot harness concepts, often working through ten different iterations during a day and into the night.  Initial testing in Thailand of the geometries opened doors into new ways to support the body, new methods of melding a pilot and the jetpack and optimized frame geometry.  We had some of the most productive initial test flights ever.  Returning to Shanghai, we started to implement these new geometries into frames based on carbon fiber. We are calling our new carbon fiber series of products X·Jets CX, Carbon X.
We develop and engineer in-house, all 3D CAD work is done for FEA testing, we work fast and quick, our goal was to get a rideable prototype in time for the end of the season contest in Japan, the Osaka JABA contest.  To up the pressure and the reward, we invited the some of the world's best rider's Mike Traster, Scott Geltman, and Sandy Burns.  Everything came together from our China supply chain and assembled in the CX Lab at the Strato factory right on schedule.
Result – An amazing performing jetpack that is unparalleled in hydroflight.  Compact as to almost be invisible when viewed from the front, the response stunned our testers.  Mike and Scott and Sandy each flew the pack and exited with a huge grin on their faces.
Reception, although we intended this as a one off to guide our development of a high end pack for 2017, the response to the Jetpack CX has been nothing short of astounding.  People want this pack bad, and they have convinced us to make a limited series of custom packs over the winter in advance of next years production model. Our clients aboard super yachts, not surprisingly have been the biggest drivers.  We are proud to announce that the X·Jets Jetpack CX will be produced in limited numbers this winter.  All units are custom built to order, frame dimensions and harness sizing is built for the individual pilot based on their measurements.  The price is not for everyone, these are one off units, custom CAD generated and handbuilt to order.  The cost is $14,000 for the jetpack alone, production time is seven weeks. 100% carbon fiber frame 10mm thick CNC machined plate, Spectra fiber, 316 hardware, alloy power channel.  We will be offering next generation CX jetpacks next summer in production at more reasonable prices, for now, if you cannot wait, we can build it for you. Contact us directly for more information at cx-lab@x-jetpacks.com