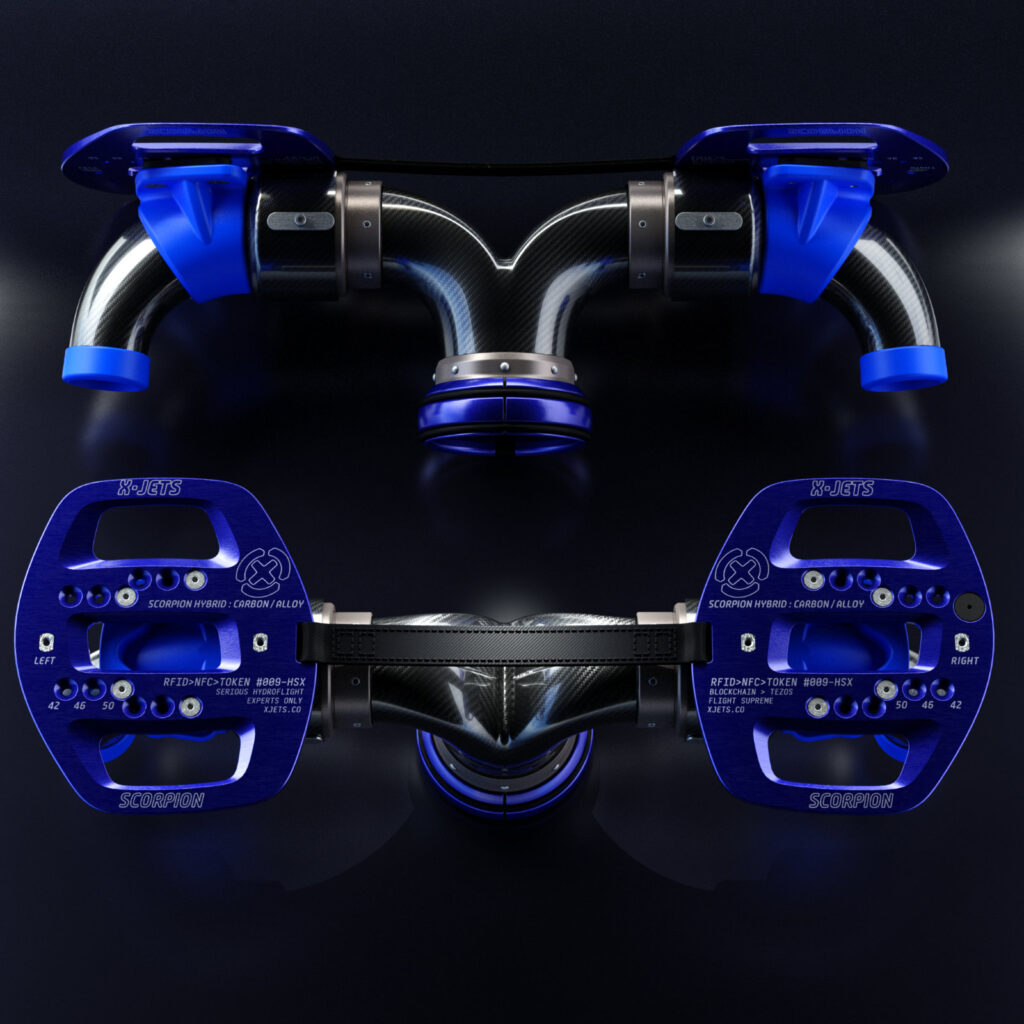 Expert hydroflight gear! This is our latest expansion, the Scorpion Hybrid, carbon flight chassis combined with billet alloy plates for a more affordable supreme flight experience.
Minimal binding height over nozzle rotation axis. 60.5 millimeters.  ( 8mm higher than its Scorpion Ninja big brother)
Constructed of a combination of billet alloys and carbon fiber composites with CNC alloy bearing races and flanges. Hardened smooth metal bearing races and hard Delrin balls give you an instantaneous turning response.
RFID tag embedded in the mount plates. Serial number, manufacturing information, current owner information, accessible by NFC protocol by most modern smartphones.
94A durometer, elastomeric binding plate mounts allow slight inward flex of the bindings during tricks.
10mm tapered, hard tempered T6 alloy plates in three built-in stance widths.  42, 46, and 50 CM binding center to center.
Coded NFC (near field communication) chip embedded in the binding plate reads on most smartphones and checks the serial number and returns the manufacturing information and current owner.  Ownership encoded to the blockchain. Immutable,
Top-down conventional mounting with standard wakeboard screws. 316 inserts that never strip.
4.7 Kilos, the lightest weight, best made hydro jetboards in the world.
Available in red, blue and limited edition in pink.
Lightweight means faster reactions with less swing weight slowing you down.  
Compact, minimal, high tech, no extraneous styling.  We minimize the side-to-side width dimension to provide you with the most clearance and room to maneuver, and clearance in tight situations.
Scorpion series highest performance hydro jetboard, low, narrow, light.  Scorpion Hybrid Jetblade.