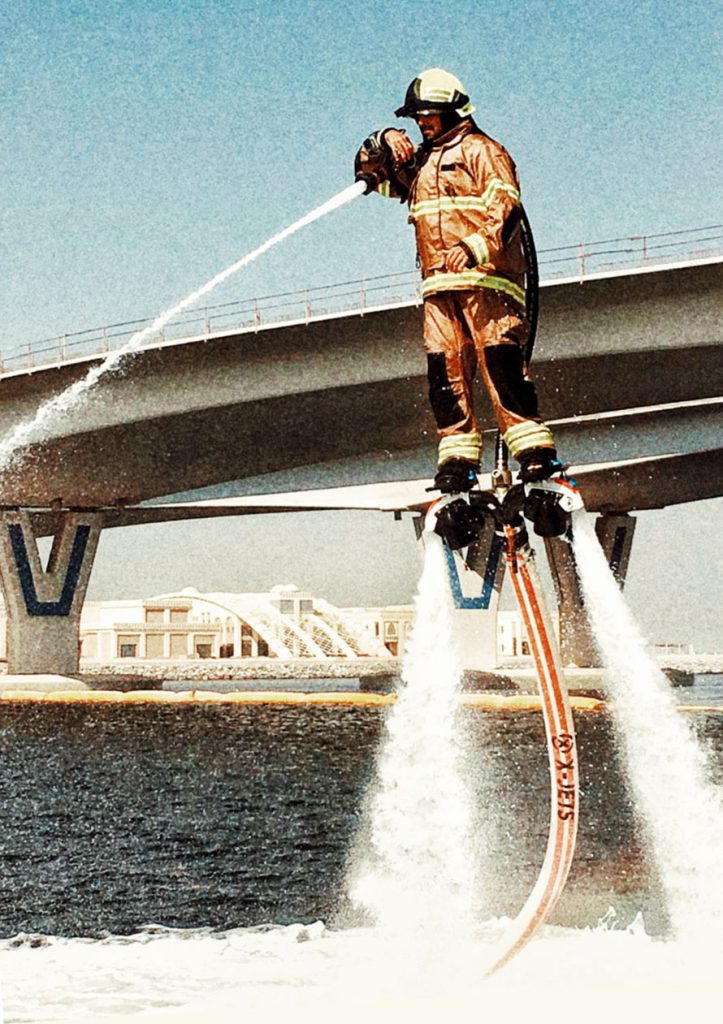 A jet ski is a high performance engine connected to a high volume water pump.  Although a jet ski was developed for sport and recreation, the efficiency of the package has been adapted to practical uses.  One of the most practical uses has been developed by the Deep Blue Sea company in Dubai, working with the Dubai Directorate General of Civil Defense.
The jet ski can reach a location quickly and in narrow canals where a larger fire fighting boat may have difficulty reaching.  Once at the location, the jet ski is quickly switched so that the output of the pump is directed into a 20 meter long firehose.  The thrust of the hose reaches the jetboard mounted on the end and lifts the firefighter through the water or up into the air.  The two streams that power the jetboard is split under the feet to supply a standard fire fighters "attack" style hose and nozzle.  The firefighter can easily adjust the angle and the height of spraying water into a fire situation.  In addition, the system can allow for the rescue of people on a burning boat for example and moving them to safety, filling tanker trucks, and supplying nozzle setups directly when within range of the water.
Additional capabilities are being actively developed and explored for servicing marine based civil defense professionals.  Please contact our professionals to discuss how we can get your organization equipped and trained in practical hydroflight assisted applications.
info@x-jetpacks.com