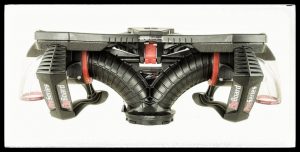 You currently ride a Flyboard™* Pro Series or Legend are looking at moving over the an alloy independent foot Jetblade.  How does a Jetblade compare to a Zapata Flyboard™*?   What are the differences and advantages?
First of all weight, Flyboard™* 7.3 kilograms vs the Jetblade at 10.5 Kilos. Construction and handling is the key here. The Flyboard™* gets the advantage from an all plastic construction and inherits the difficulties of using that material.  The Jetblade is built from sandcast and CNC machined aluminum alloy and lasts for years with annual service.  To back this up, our Y's and Nozzles have a lifetime warranty.
Nozzle bearings, the Jetblade has aluminum sandcast, CNC machined bearing races inner and outer, the result, no binding, no sticking, smooth action and response in all situations.  The engineering design is based on a lean design, each nozzle bearing cassette consists of two main parts, inner and outer machined ducts, 60 8mm ball bearings one o-ring and a port cap to keep the bearings in place.  The feeling you get when flexing the nozzles with no pressure is the same feeling you get while flying.  There is no "it all changes once the pressure comes on", what you feel is what you get.
Maintenance.  With a Jetblade your bearings will stay functional for pretty much a whole season of professional use without servicing.  When it comes time for service, you need one tool, a 4mm allen key.  Undo the single screw holding the 316 Stainless steel port cap and empty out the bearings.  The nozzle will then disassemble for washing out, changing the o-ring seal, and replacement of the 8mm ball bearings. Bearings drop into place and rotary lock the nozzle into the Y pipe.  Clean, tight, precise, no locking, sticking or drag.
Swivel, the Jetblade hose swivel is X-Jets Billet CNC milled double row bearing design, smooth action, low maintenance, no water spray design.  Clean accurate dependable spins.  We make rotary swivels that will fit into the end of your existing 110mm Flyboard hose, 316 aka W5 clamps included.
*Flyboard is a trademarked name of Zapata Racing or one of their many shell companies, it is used here as a factual comparative basis.