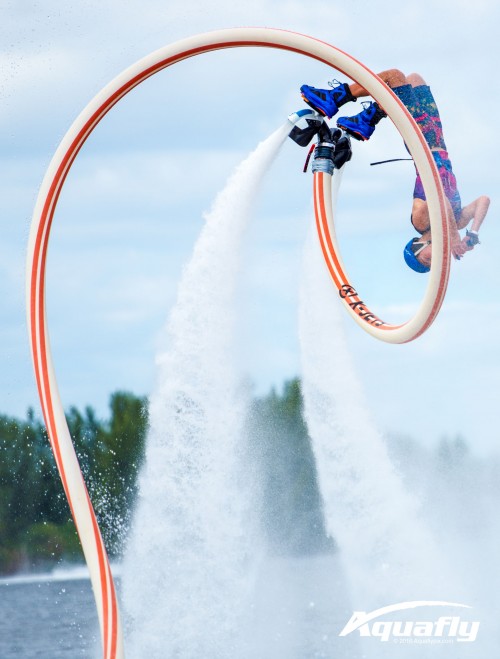 Jake Orel is ranked number in the top two in the entire world with his team mate Hunter Verlander.  At the top of his game, no one pushes equipment harder than the top pros, and Jake is no exception. Jake eliminated the competition at this season's X-Dubai World Cup in the United Arab Emirates to get a solid, undisputed second place spot on the podium.  Riding at this level requires trust and confidence in his equipment and the manufacturers that stand behind it.  We are very pleased that Jake has chosen to ride the Jetblade and look forward to working with him to develop the sport and continue to develop serious sport equipment that athletes can push the limits on with confidence.
Born in Chardon, Ohio, Jake now calls Austin, Texas home.
An avid Snowboarder, Jake started his hydroflight career at the age of 14 when his Dad purchased him his first Flyboard. That summer was spent working as a Dock Hand and Instructor at Aquafly. He is a founding member of Team Aquafly and an Official Sponsored Rider for X-Jets. His easy going attitude, fluid Riding Style and big air tricks earned him the nickname 'J-Smooth'.
Jake has performed as a member of Flyboard Shows Locally, Nationally and Worldwide. He has made numerous Television appearances and has been a featured presenter at Ted Talks. He recently performed at The Red Bull Flugtag Event in Portland, Oregon.
Together with his Teammate Damone, Jake was selected to compete for the first time in the 2013 Flyboard World Cup held in Doha, Qatar where he placed 2nd in the Qualifying Round and finished in the Top 10 overall.
A Senior in high school, Jake is also homeschooled due to his frequent travel demands and show appearances. Jake is available for shows, media relations, advanced training lessons and professional appearances.
Competition Placements:
2015 Flyboard World Cup, 2nd Overall
2015 North American Flyboard Championship, 2nd Place Overall
2014 Flyboard World Cup, 3rd Place Overall
2014 North American Flyboard Championship, Top 10 Overall
2013 Flyboard World Cup, 2nd Place in Prelims, Top 10 Overall
Professional Highlights:
Rider for Flyboard Shows Worldwide
Featured Presenter at Ted Talks
Featured Role on In The Making with Doc North
Featured performer in a documentary on The Discovery Channel
Role in Ax Men with Shelby Stanga which aired on The History Channel
Numerous Local and National Television appearances and interviews.